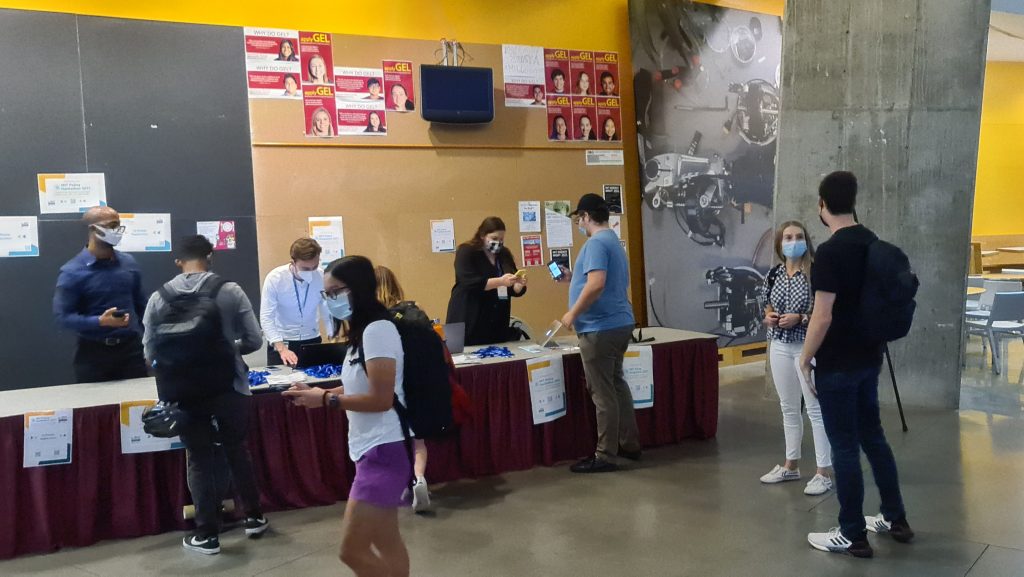 MIT's first hybrid Policy Hackathon yields strong collaborations and results
By Katie DePasquale
In late October, the MIT Technology and Policy Program (TPP) brought together data analysts, engineers, scientists, domain experts, and policy specialists from about 40 countries to explore potential solutions to some of society's biggest challenges at their first hybrid virtual and in-person Policy Hackathon.
A part of the Institute for Data, Systems, and Society (IDSS), TPP has hosted this unique, weekend-long, interdisciplinary event since 2018, always in person prior to COVID-19. After 2020's all-virtual convening, the 2021 hackathon was reimagined as a hybrid event to welcome the widest possible range of participants.
With over 200 registrants, this iteration's theme was Connecting through Challenges. The health of individual people and their wider communities was the underpinning of each challenge problem, which focused on health care and COVID-19, internet policy and cybersecurity, housing and city planning, transportation, and environmental justice.
For Will Atkinson, Biogen fellow and one of the hackathon's student organizers who participated last year, the top goals were clear: "to keep this global perspective that we had from last year as well as also getting back some of the in-person interaction, [and] trying to embody the theme and have strong partnerships with the challenge partners that we worked with. We made sure to establish at the start the idea that people could work on follow-up work with the partners after the hackathon."
"At TPP and IDSS, we work on complex societal problems that have both technical and policy dimensions," said Noelle Selin, an MIT professor and TPP director. "The Policy Hackathon is a great example of how we at MIT can bring to bear the range of expertise and stakeholder engagement needed to address policy problems, with real-world impact."
All participants are placed into teams that use real-world data supplied by the hackathon partners to create three-minute pitches and short policy papers showcasing their proposed solutions. Collaboration is key as the teams only have 48 hours to create these solutions and prepare for a judges' Q&A, with mentors available to offer advice.
Mentor Marc Haddad, who participated from Beruit, Lebanon, said, "Nothing beats the passion of team competition and the sense of commitment to solving the important issues at hand. It was a thrill to mentor different teams under serious time constraints. My favorite experience was sharing learning from my own MIT TPP experience about how to develop evidence-based policy in practice."
Aloy Buragohain, a member of the team who won the health care challenge from partner Population Reference Bureau, joined the hackathon from India as part of a group that focused on mental health care for the elderly during COVID-19, examining their deprivation from both medication and counseling through reviews of data from Massachusetts and Mississippi. "What I liked the most about participating was the global and inclusive nature of the event," he said. "That this level of synergy could be achieved even in a hybrid mode is a testimony to the efficiency of the event in terms of planning, coordination, and organization, apart from the dedication of the participants."
The internet teams looked at a challenge problem posed by the Lumen Project at the Berkman Klein Center on the difficulties of achieving a truly free and open internet. The winning team's multi-pronged approach included getting OSPs to cooperate on how to handle takedown requests, resisting viewpoint-based takedown requests, and increasing transparency about countries' activities, among other things. Winning team member Minseok Jung, who called in from the University of Illinois at Urbana-Champaign, said, "Their topic suggestion was very helpful to decide the research direction, and the authorized dataset provided a good start for the quantitative research."
Teammate Golnaz Gorzelany, a graduate of the Applied Data Science Program (ADSP) created by IDSS in collaboration with Great Learning, said her knowledge from that program helped her contribute to her team's win in a tangible way: "In a condensed amount of time, ADSP covered a wide range of foundational data science and machine learning topics such as computer vision, time series, and recommendation systems. More importantly, it taught me how to think analytically and critically about machine learning problems when analyzing data and forming solutions. I was able to put these skills to good use in the hackathon."
Current ADSP student D. Renee Whitner joined the hackathon from Georgia to put her classroom skills to real-world use, citing data cleaning, exploratory data analysis, and data visualization skills as having a direct impact on her approach to the challenge problem. Her team's housing project focused on the construction of new houses and the disconnect between opposition to new development and support for it across Boston at large, with partner Housing Forward MA. "My team and I were thrilled to have the opportunity to present our data findings and recommendations to the board and win the housing challenge. It's so rewarding to know that our weekend project could actually make an impact in policy."
The transportation challenge problem, from the Portland, Maine Sustainability Office, focused on ways to make the city's infrastructure more green while increasing public transit. The winning team's project presented a plan for accelerating equitable electrification in public transit using such approaches as on-demand microtransit and incentivized conversions to electric vehicles, among other things. For team member Graham Turk, the tangible challenge question was the best part: "In reviewing Portland and South Portland's climate action plan, I learned a ton about how cities will chart decarbonization pathways (including local policies and electrification targets) and was able to draw on my experience at an electric utility to recommend supplementary actions. [My teammates and I] brought different perspectives that resulted in a more comprehensive set of recommendations than any one of us could have come up with on our own."
As part of the winning environmental justice team, Kinshu Dang and her teammates have already started the process of continuing to work with challenge partners Connecticut Green Bank so they can put together a solution that prioritizes communication and outreach policy in tackling the Bank's goal of enrolling new customers from low-income and underserved households in their battery storage program. "My favorite part about participating in the hackathon was the fact that I got to work on a real-world problem. What made it all the more exciting is that the solutions that my team proposed will actually be implemented by the challenge partner," Dang said.
Multiple participants spoke of continuing to work with their teammates going forward, and many partners are hoping to continue the collaborations too. Judge Shreya Tewari from Lumen found it "incredible to see how different teams approached the same situation through the lens of their collective experiences and skillset(s). I am hopeful that working on challenging and complex policy issues with policy analysists and data scientists can lead to more evidence-based research."