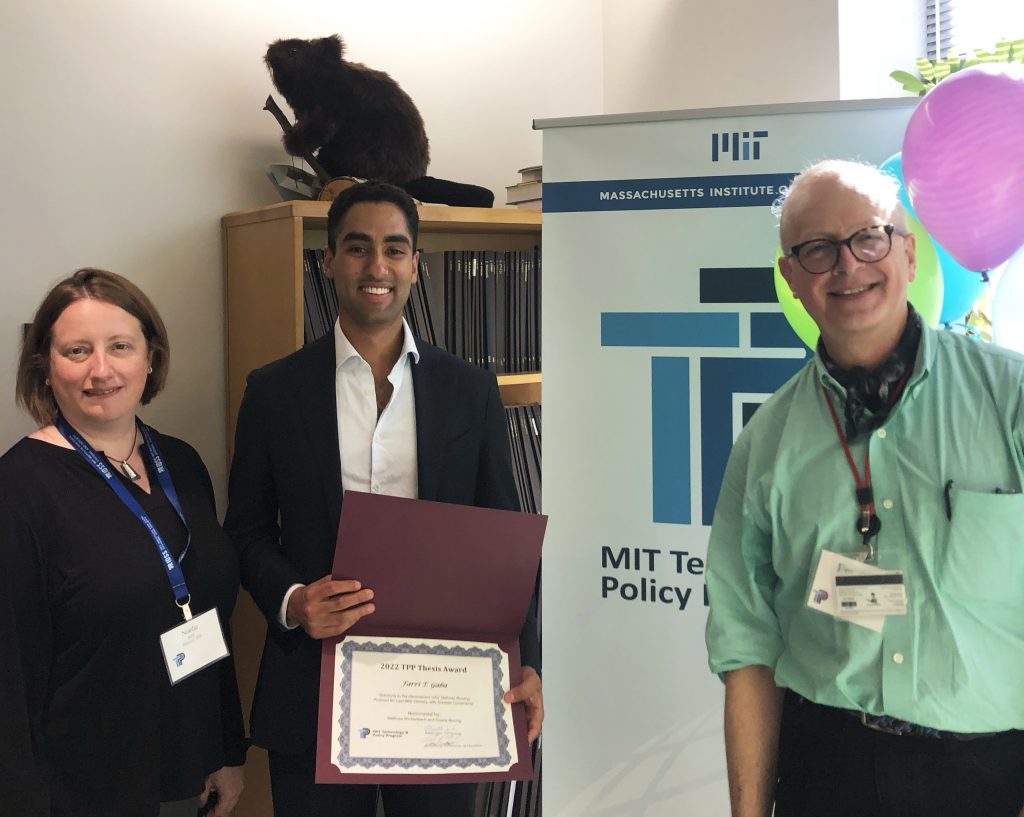 Going the extra mile
Farri Gaba was awarded a TPP 2022 Thesis Prize for his research exploring the economic and operational feasibility of drone delivery for last-mile delivery. He joined McKinsey's sustainability practice this fall.
What was the focus of your TPP thesis research? What sort of knowledge and disciplines did it bring together? How can it make an impact?
My thesis explored the economic and operational feasibility of drone delivery for last-mile delivery. It did so by capturing the societal and regulatory constraints that are set to restrict drone delivery in quantitative operations optimization models, bringing together a technology policy analysis of an emerging technology with traditional operations research vehicle routing methods. The thesis showed that if drone delivery's negative externalities on society are adequately mitigated and regulatory constraints fully adhered to via curtailed operations, operational costs of drone delivery can increase significantly. It also shows how some of drone delivery's more qualitative externalities, constraints and characteristics can be quantitatively modeled in linear programs. I hope this research strikes a chord with drone delivery regulators and industry players today to better ensure this emerging technology is deployed responsibly with societies' broader interests at heart.
Why did you choose to come to TPP?
Whilst completing my undergrad in aeronautical engineering at Imperial College London, I increasingly felt my dual interests in public policy and engineering diverging. I felt there had to be opportunities out there that would marry my two interests. I came across the program and, after reading some of the past theses, felt like I had found a group of like-minded individuals also searching for opportunities and the intersection of their respective fields of specialty and public policy. In hindsight, that was definitely what I experienced at TPP.
What are you doing next? How did TPP help shape your future plans?
I am set to move to New York and work at McKinsey & Company, specifically in their new and growing sustainability practice. I will likely be working across a variety of industries, and I am excited to leverage my interests and background in sustainable transportation and logistics in future projects I undertake at the firm. My fellow classmates at TPP, the classes I took, and MIT more broadly exposed me to a wide breadth of complex global challenges that have potential technological solutions, but aren't without their own set of technology policy issues. I was inspired to employ my technology policy interests to a variety of problems at McKinsey.
What was your favorite thing about being a part of the TPP, MIT, or Boston/Cambridge communities?
Undoubtedly the people! TPP, specifically, has been the most engaging, stimulating and enjoyable community I have had a chance to be a part of. I felt like every person was so knowledgeable and passionate about their area of specialty and its technology policy issues that, after speaking to them, I would be convinced that their problem is the most important problem in the world! TPP is very good at creating an environment of sharing, friendship and learning: from the Pizza Policy Nights to the Inter-Year Retreats to the Trivia Nights to the many casual sport pick-up games, TPP brings all the years together and makes sure everyone feels at home. There are also so many good things to say about MIT and Boston/Cambridge more broadly, but I might have to write another thesis to capture it all!